Promo Codes
When you shop online, you will notice a section where you can enter a "Promo Code." A promo code is a unique code that customers can use to receive a special discount and save more money. Singapore has hundreds of promo codes, coupon coupons, and discount offers. If you're lucky, you could even acquire unique discount codes that allow you to save more than the usual amount on certain stores.
To find more discount codes or online shopping coupons, go to CupoNation Singapore. Today, there are hundreds of online vouchers to pick from, as well as thousands of discount codes. CupoNation Singapore curates the most recent savings and offers for you every day! Check the Singapore customers' favourite online stores now and use our coupons to redeem the codes.
Choose the vouchers you want to use, then click on the discount code to open a pop-up window. The promotional code will then be shown, and you can copy it by clicking the "Copy Code" option. Additionally, you may return to the promotion page by choosing "Go to Store." Before copying the codes, read the coupon usage rules to ensure that they are valid.
Copy and paste the code into the column given on the checkout page or payment summary page. The discounts will be applied if the promo code usage terms (e.g.: minimum purchases, customer eligibility, specific payment method) are met.
Newsletter
Yes, we have a regular Newsletter for our loyal customers who want to be able to save with the best discounts and promotion codes. Contrary to other branded newsletters, ours include the best deals for all your favourite brands during that period. That way we make sure that our users are the first ones to know about upcoming offers, our exclusive discount codes and the best moment to shop!
There are other advantages that come along with subscribing to the CupoNation Singapore newsletter, including the following:
To begin, each week, you will be provided with the most recent coupon codes and discounts, which you will be able to use to make significant savings at your preferred online stores. Second, in addition to standard coupon codes, you will be given access to exclusive promo codes that are only available to those who subscribe to the newsletter. And last, our newsletter will keep you updated with the most recent money-saving advice and strategies, which you can put to use at specific online retailers to make the most of the perks and benefits they provide.
Bank Coupon Codes
Bank voucher codes can only be redeemed when combined with a certain credit or debit card from banks around the world (Such as from POSB, OCBC, DBS, Standard Chartered, American Express, etc.) as a means of payment.
You need to choose the appropriate payment method in line with the voucher usage conditions in order to make use of these unique discount codes before they can be activated. It is possible that the discount code can't be used while you are checking out on the website if you have chosen the incorrect form of payment. Additionally, many bank codes are only valid on certain days of the week.
There are certain bank offers that may be automatically activated when you fulfil the minimum purchase threshold and payment method restrictions. These bank offers can frequently be stacked with other promo codes and exclusive discount codes. However, bank voucher codes cannot be stacked as stores usually only allow the usage of one promo code on the checkout page. You may combine free shipping deals with bank incentives and promotional coupons for further savings.
Rewards
We have made it possible for you to get free gift cards from a variety of online merchants by redeeming "Rewards." Each reward will come with its own terms and conditions that must be followed. Before you are eligible to get these rewards, you will first need to register using your email address. Rewards are very fun perks that you can enjoy every day while shopping with us!
We provide all awards subject to the following terms and conditions:
If you want to acquire the gift card, the total value of your purchase must exceed the minimum transaction amount before GST.
The promotional code will be invalidated after 90 days if it has not been redeemed. Once it has expired, no further extensions will be possible.
Cashback or discount-code offers not found on cuponation.com.sg cannot be combined with this one.
Making a purchase on cuponation.com.sg using the provided link is required to participate in the campaign.
Your claim will be invalid if you leave cuponation.com.sg and go to another website before completing your online purchase.
After clicking the reward coupon to ensure it is legitimate, you must complete your transaction or purchase on the retailer's site without clicking on any other vouchers.
When determining whether a purchase meets the minimum spend requirement, the full amount before GST and delivery expenses will be used.
The amount of a gift card will not contribute to the required minimum expenditure.
Purchase must have been made via cuponation.com.sg within the promotion period for it to qualify. Telephonic purchases will not be valid and will not earn you any points.
You will not be eligible for a Reward Voucher if you cancel or return an online purchase.
Your registered email address on file with cuponation.com.sg will be notified through email if you have met all the offer's criteria once the validation period has passed.
There is a limit of one Reward Voucher per customer.
All payments must be made in SGD (Singapore Dollar).
Clicking a Reward offer will bring up a registration form. Your e-mail address should be entered here. E-mails will be sent out with any new information about rewards. The registration process will generate three e-mail updates (the first one will arrive immediately):


Verification of your registration.
The validity of your purchase has been confirmed.
Your award is included in the final email.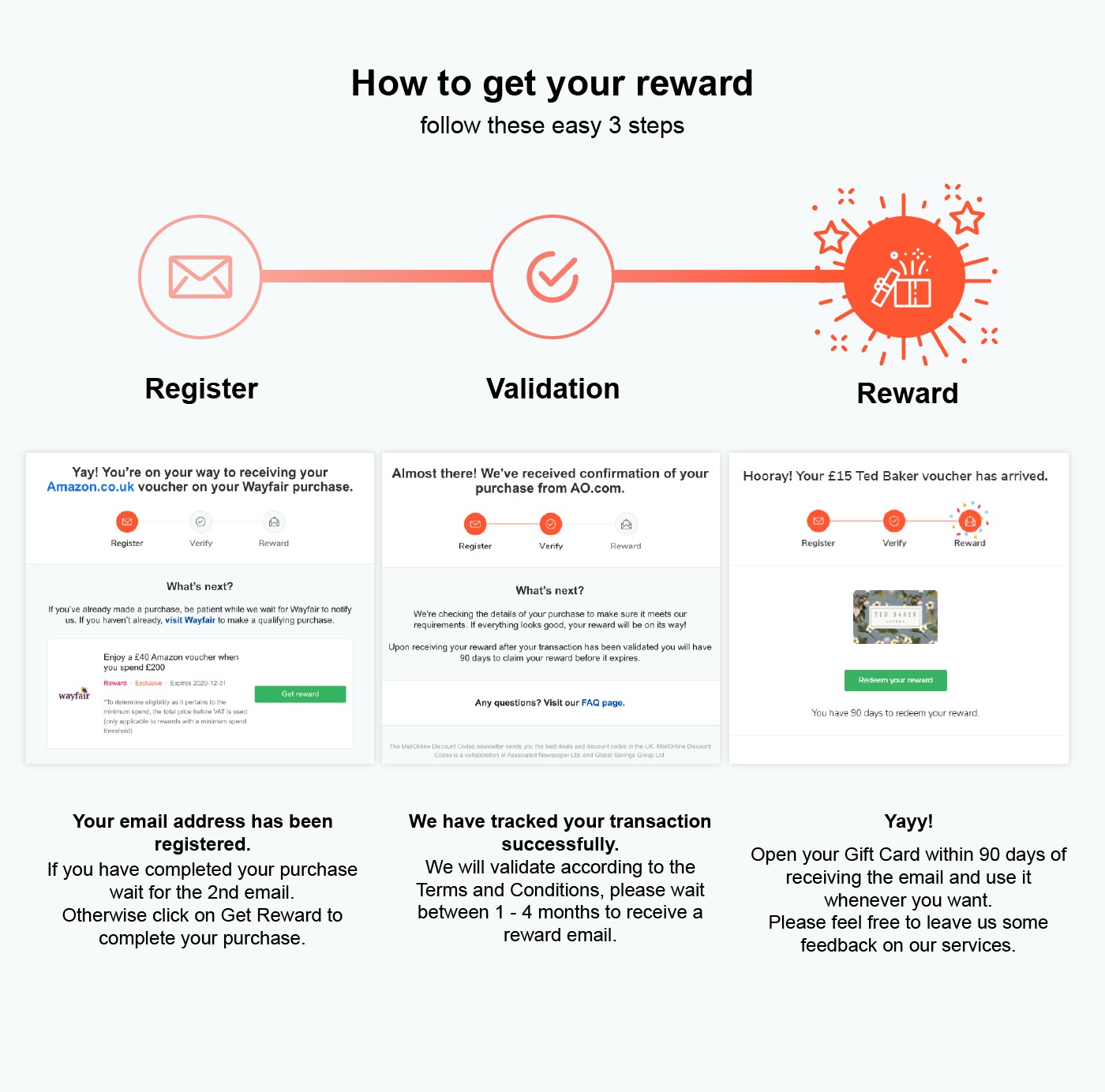 Registered

Beginning here verifies that your registration for the specified offer was successful. Nevertheless, the sale must be finalised by you (you may alternatively click "GET REWARD" to be sent to the Merchant page to complete the transaction). Don't navigate away from the Merchant page until after you've completed your purchase so that your financial transaction may be tracked. After the sale is finalised, we'll double-check with the Merchant to make sure the Reward offer's terms and conditions were met.

Incorrect tracking may occur due to the following factors:

Unfortunately, you did not activate your reward by clicking the "GET REWARD" button in the accompanying email.
You abandoned the checkout process by leaving the Merchant's website.
The ability to track cookies in your browser is currently disabled.
You are using an ad-blocking application on your browser.
You used a different discount or coupon when you made your purchase.
You used a different e-mail address while purchasing.

Verifying

This means that the Merchant is currently validating your purchase details. The time frame for this procedure is 30–120 days. Your purchase will be void if you have not fulfilled the requirements of the Reward offer, cancelled it, or returned part or all of the items.

Rewarded

The last step is to check your inbox for an email with the Rewards code. At this point, all you need to do to take advantage of the discount is input your code. The Reward code has a time limit, so be sure you use it before it expires.
The entire time it takes to verify your reward is between 30 and 120 business days. All the rewards transactions must be verified by CupoNation experts to ensure that all Terms and Conditions were met. Each merchant has different waiting periods based on the offer (Waiting periods are also subject to change).
After your purchase has been verified, you will get an email with your Reward code in it. Then, during checkout, paste the copied code into the Gift Card section.
Do you have further questions on Promo Codes or Reward offers?
E-mail the CupoNation Singapore team if you have any further inquiries about Rewards. Support from the CupoNation Singapore Rewards team is available Monday through Friday, 9 AM to 5 PM (SGT). We encourage you to send any questions or comments to contact.rewards.sg@joingsg.com, where a member of our team will get back to you as soon as possible.